10 Essential Elements of Brand Storytelling
Published on March 27, 2020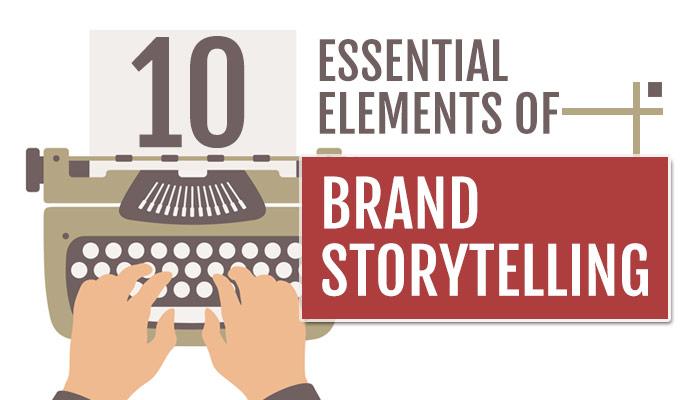 Brand storytelling existed long before the rise of social PR. Even in the earliest days of marketing, branding was as much about telling stories and creating a connection with your audience as it was about the hard sell.
But since the rise of social media and modern SEO, brand storytelling has changed: Now, it's all about connecting your audience with one another. It's about being real and accessible, rather than bragging. It's about using all of the new media opportunities at your disposal to show, rather than tell.
In short, crafting a compelling narrative around your company is essential for drawing in new readers online and helping to turn them into loyal users. But how do you get started?
Thanks to marketing guru Pam Moore's "Social Zoom Factor" podcast, here are ten of the essential elements to shaping your brand story:
1.) Be You, Be True
Nobody likes a fibber. Don't tell stories that aren't truth. While it's fine to use examples or analogies, having a brand story is all about authenticity – it's impossible to be authentic if you're not telling the truth to your audience. Don't sink to puffery or tall tales; instead, engage your audience with quality content and facts.
2.) Be Human
Social media gives your brand an incredible opportunity to talk to users on their level and tell your brand story one person at a time. Be relatable and personable. Avoid jargon, marketing-speak and legalese and instead connect at the human level, by talking to your audience, not above them.
3.) Connect Emotionally
Your brand story should work as its own sort of engaging call to action. The best way to accomplish that is to move your readers to act. Help them see things in a new way. Make them laugh, make them cry – just make them feel something that makes them want to connect with your brand.
4.) Create Experiences
Once you've engaged your audience's feelings of hope or awe, you can keep them coming back – and that's a good thing! Don't feel like your brand story has to be an elevator pitch where you tell everything in one fell swoop. Instead, invite people in to experience your brand over time. Use social media and your site's quality content to build and nurture rewarding relationships.
5.) Understand Your Brand and Its Message Foundation
Your brand story should accurately and helpfully represent who you are. If you don't take the time to fully understand your own company, your audience, and your market's needs, how can you know the right tone or medium for your brand story? Before you begin any marketing campaign, do your research: Reflect on your goals and use social listening to find out more about your audience.
6.) Don't Overthink It
Mark Twain worked on Huckleberry Finn over a period of several years. For better or for worse, George Lucas has consistently revamped and redesigned his original Star Wars films over the years. What's the point? There is no perfect story, so there's no point in trying to craft one. When you cherry-pick details or manufacture your brand story, you lose authenticity. Be human and humble. Remember, your story doesn't need to be perfect, it needs to be real.
7.) Bring Others Into Your Story
Make sure your brand is associated with real people that your audience can connect with, whether its your employees, their families, your executives, or your customers. No story is complete without a unique cast of characters, so be sure to highlight yours.
And, when possible, let other people help tell your story. Make connections in the industry to help share and spread your content. Or engage new audiences with user generated content – highlight what your users are saying about you through testimonials, tweets, or reviews.
8.) Get Creative and Use a Variety of Media
You have more tools at your disposal as a marketer in 2020 than ever before in history – seems like a shame to waste them, right? Rather than just sticking to text or pictures, use a variety of media to tell your brand story. Experiment with different social networks, including Pinterest and LinkedIn. Use audio, video, and infographics. Know what your audience is using and doing online and you can figure out an innovative way to reach them.
9.) Bring the Offline Online
Believe it or not, many users are fascinated with learning how the sausage gets made. Giving readers an inside look at your process humanizes your company and can make you seem even more authentic.
Show users how you do what you do. Let them into a brainstorming or training session. Invite your users to follow along in your day-to-day by live-tweeting, livestreaming on Periscope, crafting a story on SnapChat, or posting behind-the-scenes pictures on Instagram.
10.) Share It All
As we've stressed already, it's more important to be authentic and human than to be flawless. To really build trust and leave a lasting impression, don't be afraid to share the good, the bad, and the ugly. Not only does this make you seem trustworthy, it positions you as experienced and knowledgeable in your field. Turn your trials into learning experiences. How can your falls become inspiration? How can you turn a negative experience into a chance to make your community better?
Are you looking for help crafting the perfect brand story? Ready to start a new content marketing strategy in the months ahead? Drop Geek a line! We're here to help with all of your social and content creation needs.