5 Apps You Need To Create a Paperless Office
Published on July 8, 2015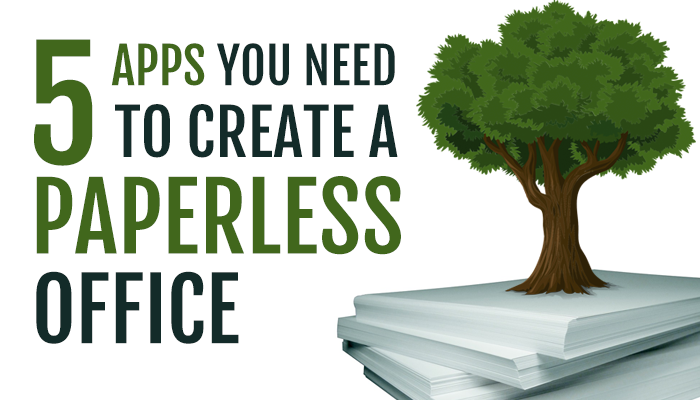 You've probably received an email from a contact that looks like this: "At the Smith and Smith Electric Repair, we do our best to conserve resources and work towards a paperless office. In that respect, we ask that you print off the attached document and fill it out before an electrician arrives."
It sounds a bit like a joke, right?
Imposing paper and printing costs on the customer isn't a route towards conservation nor is it tech-savvy protocol. A truly paperless office implements thoughtful uses of apps that satisfy the needs of both business and consumer. Here are some apps and programs to take on when closing the door on your office's paper use. 
Evernote is an easy to use organizing and note-taking app that continues to win our affection here at Geek. We love everything about this program, from its notebooks to its convenient Web Clipper. Evernote contributes to the paperless office by allowing users to transition from the old days of printing and storing in cabinets to the new days of accessing your files from smartphone, tablet, or computer. 
2. Asana
Asana creates synchs up communication between team members without using email. It's already our favorite task manager, and we use it on the daily here at Geek. With Asana, you can create projects and assign sub-projects to different team members. Asana shows deadlines on both calendar and list formats, and you can look at tasks for an entire team or an individual. You can start conversations, follow certain posts, and monitor progress as you get the job done!
3. The Google Family (Calendar, Docs, Etc.)
For many, Google is synonymous with the internet, so it's no surprise that their group of offerings can also take over many digital tasks. For example, Google Docs can serve as editing software by allowing multiple document managers to make addition and subtractions to written projects, and it also has the technology to extend past the traditional document into more diverse formats like spreadsheets. All updates are in real time and tracked, making collaboration simple and clear. 
The folks at Lifehacker are keen on this app that enables electronic signatures via PDF. Contributor Whitson Gordon writes: 
HelloSign is one of the simplest electronic signing apps we've seen yet, mostly because it's integrated right into Gmail. Now, if you receive an email with a PDF attached, you'll see a new option below it to sign it. Once you connect Gmail to HelloSign, you can upload a signature from an image or draw it right into the app and use that for all your future documents. Just paste in the signature, add any other necessary info, and send it right back.
Receiving faxes through your smartphone might sound like a strange merging of the 1990's and today, but just like the return of grunge flannel to fashion magazines, efax makes it hip to stay in touch with the past. This subscription service also allows you to send files too big for email and features up-to-date security to keep the flow between mobile device, web, and fax machine safe and tidy. 
Of course, before you make this leap it's important to consider the pros and cons of the paperless office. There are folks who can transition to a paperless office in a sprint, but you might be most comfortable slowly adapting to your apps and kissing paper goodbye. To stay up-to-date and in-the-know of the latest apps that your business will need to go paperless, sign up for our newsletter!