The Digital Marketing Steps to Take at the End of the Year
Published on November 25, 2016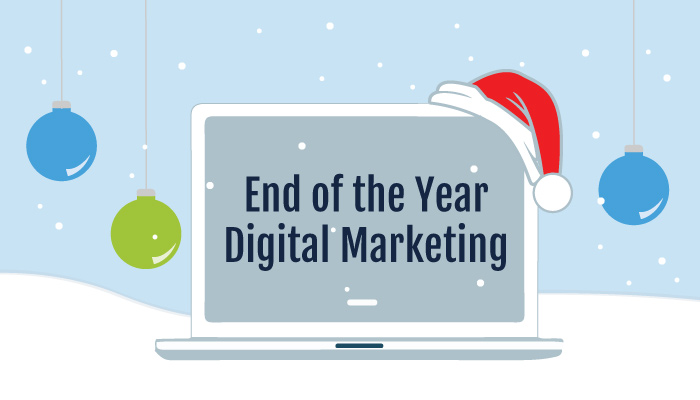 The winter chill is settling back over Chicago, which means plenty of people are already looking ahead to next year. Whether that means plotting out resolutions or just longing for another glorious June afternoon, it's easy to get ahead of yourself and get lost in a daydream.
But not so fast! While it's great to look ahead at the future, the end of the year is also the perfect time to analyze your brand's past and refocus on your present.
Don't let these last few months go to waste! Dig in on your digital marketing. Here are three ways to make sure that you're prioritizing your digital marketing efforts at the end of 2016:
1.) Launch Your Holiday Marketing
Consumers expect a certain surge in creativity, value, and responsiveness as we move into the busy holiday season at the end of the year. Is your brand ready to keep up?
Before the rush hits, take advantage of this (relative) calm period to plan out how you're going to elevate your digital marketing for the holidays. What tactics are you going to use on social media? How are you going to personalize your email marketing? When do you need to get started?
Research your audience, reassess your resources, and rally your team, and we're willing to bet that you can turn the last few months of the year into some of your most productive – and lucrative!  
2.) Get a Hold on This Year's Data
One of the great myths of digital marketing is that you can take a "set it and forget it" approach. Put the pieces in place and then you're free to walk away, right? Just the opposite, in fact, is true: Whether your focus is on SEO-driving content, SEM, email marketing, social media – or, ideally, an integrated campaign folding in all of the above – you'll need to monitor your results and adapt your strategy regularly.
While we encourage weekly – or even daily – analytics-monitoring here at Geek, the end of the year is a great time to step back and take in a fuller picture. Take stock of the various channels that you're using for digital marketing, as well as the goals you set for your campaigns earlier. Ask yourself seriously: How are you doing? Have you increased your conversion rates from organic traffic? Boosted your email clickthrough? Increased engagement on social media? Where are you succeeding? Falling short?
With all of this data drawn from your Google and social media analytics, you can set new, realistic goals for the future, making sure that your entire team is on the same page as you charge headlong into the months ahead.
3.) Begin Strategizing for Next Year
What do 2017, 2018 – and beyond – hold for digital marketers? More than we can possibly imagine. For now, though, we have more than a few ideas, primed and ready to put into practice for your brand to start the year off on the right foot:
Optimize Your Brand for Mobile
The vast majority of your audience is using a smartphone or tablet for their social media, entertainment, search, and ecommerce needs. Is your business ready to keep up with a mobile-optimized website or companion app?
Refresh Your Site
Whether they're visiting your page on mobile or on a desktop, your users are looking for a fast, intuitive experience – and most will click away within mere seconds if they feel that they're not getting one. As you get ready for a new year, resolve to take a fresh look at your site. Update your on-page SEO elements, streamline your code, add some new features or plug-ins, and look at your branding and visual content with fresh eyes. It could make all the difference by this time next year!
Diversify Your Content
Does your brand focus exclusively on video? Maintain a robust text blog but bypass social media-exclusive content, like slideshows or live-streaming? Post one news update a year? Whatever your content creation schedule looks like now, you should plan on modifying it for the new year. Users are hungry for content, but the "same old, same old" simply won't cut it anymore; instead, your brand will need a diverse variety of content, all shared across multiple channels. Don't be afraid to give your audience what they want! Not only will this inspire loyalty and engagement in your prospective customers, but it will invigorate your team to think big and break new ground.
Want to talk strategy? We'd love to keep the conversation going! Drop us a line or follow our team on Facebook and Twitter for the latest and greatest in content marketing news, trends, and updates.