Digital Marketing for the Hospitality Industry
Published on August 25, 2017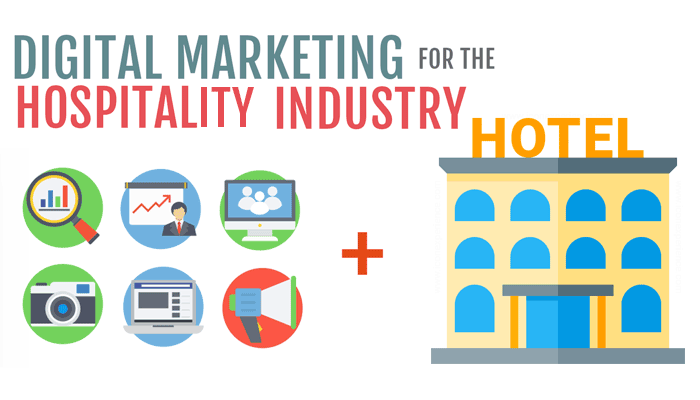 More than a third of all Americans have plans to travel more than 50 miles from home in 2017, according to AAA. Of all of those people planning to travel, a full thee-fourths "say resting and relaxing is very or extremely important to them," according to a study from the Associated Press.
And among those travelers, hotels and motels remain the most popular type of accommodation by a wide margin. Despite the rise of short term vacation rentals, 45% of vacationers plan to use hotels, according to the AP.
And one last statistic? Of those who are going to use hotels, nearly 60% are going to make their travel reservations online, according to Statistic Brain. That's nearly 150 million bookings made over the internet every year.
With all of this in mind, it becomes clear that hotels, bed-and-breakfasts, and other hospitality providers need to be active online. That means taking an effective approach to digital marketing.
From web design to social media management, here are the digital marketing fundamentals tailor-made to help those in the hospitality industry reach new guests and create brand loyalty:
Design Your Website Around the Booking Experience
While many professionals, across industries, think of digital marketing as an "add-on," it is our philosophy that it's actually fundamental. Being accessible online in any capacity means that you're marketing yourself online.
With that in mind, effective digital marketing starts with a functional, appealing website. For those in the hospitality and service industries, that means not only abiding by the golden rules of web design, but in emphasizing and really building out the booking experience (remember – 57% of all travel reservations are made online!).
That means having a clear, effective call to action and responsive, intuitive online forms, ready for your potential customers to fill out. That means designing a site free of unnecessary clutter and distractions, and instead focused on guiding your visitors toward a successful goal completion. That means a site that is just as functional, quick, and well-designed on mobile devices as it is on desktops – particularly since 65% of same-day hotel reservations are made on smartphones!
Bonus Tip: The hospitality marketplace is a crowded one. From hotel mega-chains to nearly-free couch-surfing networks, travelers have no shortage of options when it comes to finding a place to stay. It's important to make sure that your business stands out, and that starts with branding! Having a memorable logo, a recognizable color scheme, and a distinct and unique voice will go a long way towards helping your brand make a first impression and linger in the minds of your prospective customers.
Emphasize Social Media
The very word "hospitality" conjures images of people gathering together – so it's only natural that social media is a logical marketing channel for hotels and motels!
Increasingly, social sites like Facebook, Twitter, Pinterest, and Instagram are the digital places where consumers go when looking for answers or recommendations on where to stay and what to do.
These social networks' visual-heavy platforms make them an appealing first stop on the buyer's journey, a great place for someone to see and research what may be in store before moving on to complete their booking process on a branded website or online travel agency (more on those in a second).
In addition to having an active and accurate presence on social media (a must for any business), there are a few ways that hospitality brands can use the unique features on these platforms to really stand out. For one thing, social sites are great for gathering and sharing user-generated content, such as reviews and testimonials; in many cases, seeing authentic pictures, stories, and recommendations from real past guests can be just what it takes to tip a curious user into becoming a paying customer.
Social media pages can also be great for launching contests or promotions; offering exclusive deals or running a fun competition can be a great way to stoke interest in your brand, and keep users coming back to see what deals or opportunities you're offering throughout the year. Social media platforms like Snapchat and Instagram also present you with the chance to highlight the elements that make your brand unique – such as your staff, your location, or your singular sense of humor – in a way that can be hard to convey on other, less personal marketing platforms.
Focus on Reputation Management
Online reputation management can be thought of as the way a brand shapes and guides the conversations that are being had about it online. And keeping tabs on what is being said about your business over reviews, testimonials, and social media posts is an unbelievably important part of attaining success in this industry, where other people's thoughts and reactions can guide consumer decisions in a huge way.
One key element of reputation management is in making sure that your brand is registered with review and listing services; for hospitality providers, that means receiving Yelp and Google reviews, as well as connecting with industry-specific services, such as TripAdvisor (which is far and away the most sought-after destination for internet users looking to research and reserve their travel accommodations).
You may also gain a new outlet for generating conversions if you partner with one or more online travel agencies, such as Expedia, Trivago, Booking.com, or Hotels.com. According to travel marketing resource Skift, independent hotels can be massively underrepresented on these services in comparison to chains. Many of these platforms offer marketing management tools to get you started with their service, and they can offer remarkable opportunities to create leads.
For keeping an eye on what is being said about you online – be it on a review site or on social media – we also recommend consulting with a marketer that has experience in review generation and monitoring, social listening, and consumer surveys, all of which can be essential to creating and converting your next lead. Here at Geek, for instance, we have a relationship with Birdeye, which brings review marketing services to businesses across the country.
Have any more questions about what it takes to get started with digital marketing? Looking to start putting the power of the internet to work finding your next customers? We offer marketing solutions for businesses of all sorts here at Geek; over the years, we've assisted brands with everything from web design and development to email marketing. Drop us a line today to see how we might serve you!