Three Stunning Examples of Successful Digital Newsletters
Published on April 5, 2017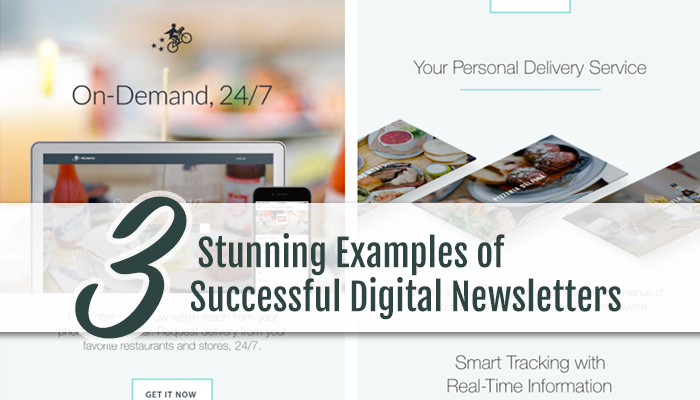 Your customers are on the go more than ever before. They're using more diverse social platforms than ever before. Their attention spans are shorter than ever before.
In a climate like that, what's the best way to reach out to your customer base – or easily communicate your brand story to fresh leads? Hit 'em where they live!
Increasingly, that means their inboxes. Email marketing is a reliable workhorse that offers a ton of singular advantages – if you're using it the right way. Looking for some inspiration to get started? Curious about just what makes a great digital newsletter or email marketing campaign?
Here are a few sterling examples showcasing just how powerful an email can be:
1.) "Watching," from the New York Times
We love movies and TV here at Geek, and we're always on the lookout for recommendations from knowledgeable critics and industry insiders. That's how we discovered Watching, a recommendation newsletter by the arts staff of the New York Times.
But we love it for much more than the movies and TV shows it encourages us to track down! In fact, we love the content and layout of this digital newsletter as much as we dig the cinematography from Terrence Malick's Tree of Life (told you we loved film).
First and foremost, the message at the top of the letter is short and sweet, but it's most welcome; we get a sense of the people behind the screen as they talk directly to us, giving this mass letter a personalized feel and a distinct perspective, all while also reiterating the value of the content we're about to scroll down and consume.
And what's more, this simple newsletter – which makes ample use of its distinctive font and a bevy of clean white space – is chock-full of unobtrusive calls to action, encouraging clickthrough without batting subscribers over the head with banner ads or obtrusive, boxy design work.
Dave Pell has been called "the world's most fascinating newsletter writer" for a reason: The man behind the groundbreaking news curation newsletter NextDraft writes copy of the sort that you won't find anywhere else on the internet.
Case in point? He describes the process of creating NextDraft like this:
"Each morning I visit about 75 news sites, and from that swirling nightmare of information quicksand, I pluck the top ten most fascinating items of the day, which I deliver with a fast, pithy wit that will make your computer device vibrate with delight. No bots. No computer algorithms."
For more, you can see the day's current newsletter edition online here.
There really is something distinctly human about reading through a NextDraft in your inbox, and that's a lesson we can all stand to remember from time to time: Voice matters in content marketing. Appealing to your audience with tone, substance, and perspective is one of the surest ways to get them to open your email marketing in the first place, let alone to engage with its contents.
And that voice isn't just limited to the one-of-a-kind copy. NextDraft's visual branding is pretty damn unique, as well, from its use of fonts to its distinct brand logo.
Another takeaway for your digital marketing? Scroll through that newsletter one more time and see how easy it is to instantly share across Facebook, Twitter, or email. Providing easy access to social share buttons is a simple way to encourage users to spread your content beyond their inboxes.  
Though they're rivals in the food delivery game here in Chicago, both Postmates and Grubhub make extensive use of email marketing in order to convert and retain customers. Looking at both brands' use of email has a lot to offer, whether you're an email marketing newbie or a seasoned newsletter-sender looking to add a new dynamic to your efforts.
First up: Postmates. Check out this sample "welcome" newsletter, available via Really Good Emails, a digital repository for the best and brightest in email marketing design that's well worth exploring. Why is it worth a look? Because it's gorgeous, that's why! Never underestimate the power of high quality images to entice a reader to scroll down and follow through on a call to action.
Plus, as RGE highlights, this Postmates email loses none of its striking visual appeal when viewed on a mobile device; mobile optimization like that is incredibly important, particularly when you remember that more than 50% of all email opens come from mobile, and 80% of users will unsubscribe from an email newsletter if it doesn't look good on their phone or tablet.
As for Grubhub? Take a look at the "Shark Week" email brought to our attention by the email marketing template experts at Emma. Personalized, timely, and festive? This is a great email, and a great reminder that all of your content marketing – blog copy, social media, and email – needs to be dynamic and adaptable.
Ready to put the power of email marketing to work for your business? With email use on the rise, there's never been a better time to start creating and sharing content with your existing and future customers. And putting a comprehensive email marketing campaign in place for your business is easier than you may think, especially with the Geek team by your side! Our team of designers, copywriters, and digital marketing specialists is here to make sure you're able to put your best foot forward.
Want to talk strategy? Drop us a line today!