Five Easy Ways to Diversify Your Content Marketing Right Now
Published on April 17, 2020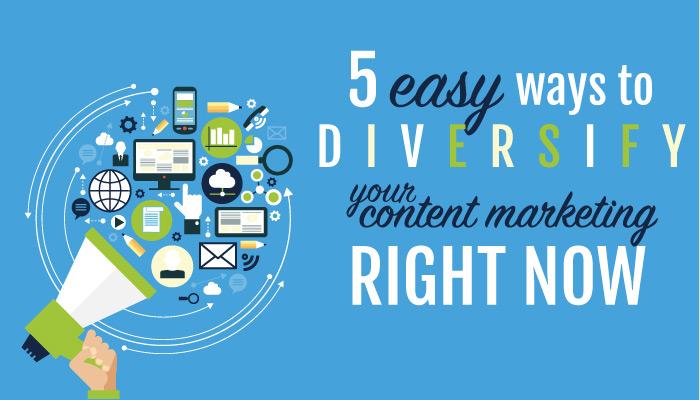 Creating original content is the rigid, indispensable backbone to any successful digital marketing campaign. It's the must-have element that funnels coal to power the social media furnace, that gives the tenuous elements of SEO something to hang from, that turns your email newsletters into clickable little Christmas presents glowing in an inbox.
Look, we realize we just mixed a lot of metaphors. But that's also kind of the point! While your brand should be generating and sharing compelling content, what specifically qualifies as "great content" has never been more free or open to interpretation. And that's a very, very good thing.
While blogging will always be number one in our book, it's not the end-all or be-all anymore. As marketers and designers and engineers – hell, as poets and artists and daredevils and mavericks – there's never been more opportunity to experiment with fun, engaging new ways of reaching your audience and guiding them through your conversion funnel.
The advantages of diverse content run deep. As Todd Patton at Business2Community explains, diversifying your content increases the likelihood of both social sharing and engagement. As he writes:
"We knew that if we didn't capture someone with the first piece of content, there would be opportunities to peak their interest later on... Taking a holistic approach to marketing campaigns drives the right people to the right content."
In short, diversifying your content is a surefire way to ensure that every single element of your content marketing strategy is running more efficiently and effectively. Looking for a few ideas to get started? Here are five of our favorite types of content, all proven to engage, inform, and convert:
1.) Infographics
Marketers and businesses tend to love data, but audiences respond to emotions and eye-catching visuals. The infographic is the perfect format to give your users the best of both, presenting a ton of valuable information in a rich and visually appealing – yet quick and easy-to-grasp – way.
2.) Free eBooks
Are you the local authority on your field? Are you a thought leader cutting new paths in a well-known industry? Is there something unique to your methods that totally sets you apart from your competition?

No matter what you do, you can produce and distribute a free eBook (hey, while we're on the subject, why not check out ours?). Not only will this give your audience a chance to get to know the scope and style of your brand better, but it creates invaluable loyalty and trust. You're giving away valuable information as a free gift, and most audiences won't forget it down the road.
3.) Podcasts
Why should your brand consider the podcast? These audio shows are easy and inexpensive to produce, and they have a built-in "push" audience hungry for content. And this is unbelievably high-value content, to boot: You'll be in your users' ears while they're cooking dinner or on the go. You'll be a file in their iTunes library to turn on and listen to at will. That's an amazing opportunity.
Beyond all of that, the podcast is a great way to generate SEO-boosting written text (thanks to introductions and transcripts, you'll be killing two birds with one stone) and provides a great opportunity to reach out to thought leaders or influencers in your field. Who could turn down the offer to chat and spread their message to the world?
4.) Video
If Facebook and other social video platforms like Periscope, Vine, or Instagram have their way, then video will be the content marketing method of the future. Arguably, the future is already here: 78% of people watch videos online every week, and 55% of people watch videos online every single day. Marketers who've experimented with video on social, blog pages, or even email tend to report decreases in bounce rate, increases in brand recognition, and even improvements in email opens. Why not get in on the ground floor? Here are five ways to get started with video integration now.
5.) Slideshows
Like infographics, slideshows are a great way to guide your reader to – and through – your site with the promise of rich information presented in a clean, visually-engaging way. Whether you integrate slideshows into your marketing to present statistics, format listicles, or give your snappiest elevator pitch, there is no shortage of ways to get started. We recommend Google Slides or LinkedIn's SlideShare application as jumping-off points.
Looking for some help getting started with content marketing? That's where we come in! Geek Chicago has a proven track record of creating diverse, winning content for brands of all sizes. Why not drop us a line today to get the conversation started?