Gadget of the Week – Octopus Watch
Published on November 3, 2016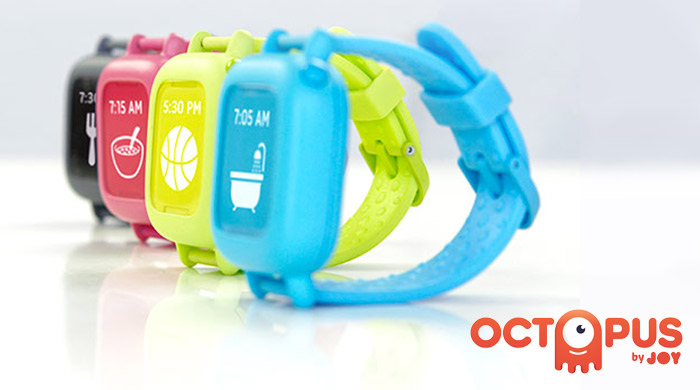 From sundials to smartphones, the way we've kept track of the time has always been changing. Unfortunately, the ways that we teach our kids to tell time never seem to keep up.
Enter the Octopus by JOY – the first watch designed to teach kids how to read a clock and manage their time in our all-digital age.  
The Octopus teaches not just the concept of time, but the good habits that will help your young ones make the most of it. First off, Octopus boasts a wide array of appealing colors, perfect for its audience of 3-8 year-olds. It's also water- and stress-resistant, so it will weather playtime on the wrist of even the most active student.
And beyond its kid-friendly design, the Octopus speaks to young users in ways that empower them to learn and understand what time really means.
Using a bright, icon-based platform, the Octopus first helps young users get to know what time means – a "sleep" icon may show up alongside "8:30 p.m.," for instance, helping students get a sense of a routine and daily schedule. This, in turn, helps to foster a sense of "responsibility, independence, and self-esteem" in the eager wearer.
Even better? The watch grows as your kids do. Once the time-teller gets more sophisticated, the watch follows suit, showing a digital-only face, then moving up to a traditional analog clock.
Complex concepts and good daily habits don't just fall from the sky – they need to be taught. The Octopus is a visual, kid-friendly way to help your child grow and develop vital skills – and have plenty of fun along the way. Ready to give it a try? Unfortunately, you may need to spend some time checking your own watch; the Octopus is currently available for pre-order for $69, with an estimated shipping date of May, 2017.