Social Media For Restaurants and Bars
Published on March 7, 2018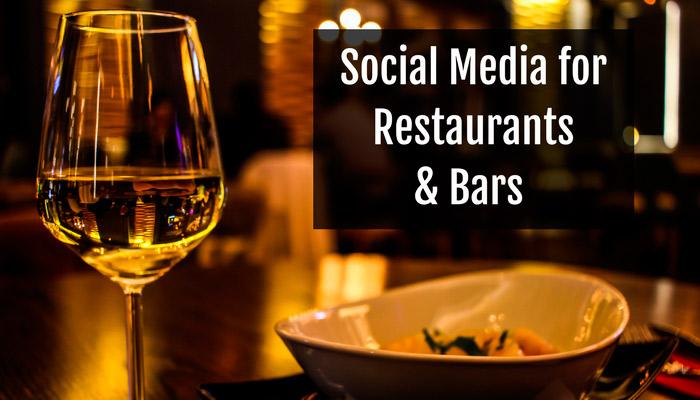 Everyone has a favorite restaurant, but few actually know how the marketing of that diner, pub, or bistro actually works. Sometimes, that even goes for the owners!
From cutting edge havens of molecular gastronomy to food trucks dishing out classic cuisine, every restaurant and bar needs a digital marketing strategy. Understanding how to position your brand for maximum visibility online is crucial for filling tables in real life.
For restaurants and bars, social media continues to be an essential ingredient for any successful digital marketing plan. Cultivating an active and accessible presence on sites like Facebook, Twitter, and Instagram is a great, low-cost way to spread your reach to new customers, and keep your place top-of-mind for your existing audience of foodie fans and followers.
Ready to use social media to build goodwill for your restaurant – and keep people flocking to your joint for breakfast, lunch, and dinner? Here are the social media main courses you need to prep now:
Make Your Social Media Presence Community-Driven
Think of your audience as a community - you're inviting them to eat, after all!
When you're addressing your community from this perspective, it's important to engage and carry out the conversations you'd want to be a part of – rather than just pushing a new special or drink too hard.
When it comes to digital marketing – and social media in particular – your audience doesn't want to be sold, they want to be included. Fostering a sense of community and engaging in real discussions should be the primary goal of your social media activity. Not only will this get you off on the right foot with your new and returning customers, but it will also help you stay visible and competitive on Facebook's shifting newsfeed algorithm.
It's especially important for restaurants and bars to understand the difference between conversion and engagement posts:
Conversion: A post that includes a call-to-action on the part of your community
Engagement: A post that offers information and anecdotes that the community will find interesting
As a rule of thumb, it helps to stick to about 70% engagement posts and 30% conversion. You can make engagement posts that are compelling and relevant to your business, perhaps with a piece of history concerning a new beer, a behind-the-scenes snapshot of your staff at work, or a profile on a farmer with whom you work.
Remember, social media is about the social. It'syour time to shine and disregard a few of the formal conventions of marketing, so have fun and show some personality! Highlight what makes your restaurant unique, and be sure to bring diners into the conversation.
Take Time to Talk With Your Customers
Have you ever been to a dinner party where one guest monopolized the conversation? It wasn't too fun, was it? Well, believe it or not, social media works exactly like a dinner party. Everyone at the table has something to say, and they deserve the chance to be heard, appreciated, and shared. Keep this in mind!
Did someone leave you a kind review on Facebook? Take time to respond! Did someone go home with food poisoning and then wax poetic about it on Yelp? Respond!
We can't stress this enough. It is absolutely vital that you're active about social listening, and take time to hear and engage with everything your diners have to say about you, for better or for worse.
A guest that has a positive experience will want to talk about it with their friends, but there are typically only two types of guests that take to social media following a restaurant visit: the euphoric and the miserable. Extremely happy customers who experienced on-point service, food, and atmosphere will want to write about it and show off their expertise. Customers who caught your establishment on an off night will also feel eager to express their feelings.
It's important for restaurants to respond quickly and with a friendly tone to social feedback in order to encourage repeat customers.
Of course, it might also help to put in place a strategy that allows you to sidestep those negative reviews in the first place. We call this effort to control what is said about you on review and listing sites "reputation management for restaurants," and we've got the tools to help you put it to work in more sophisticated ways than ever before. 
For instance, Geek can help you set up and manage an automated workflow that lets you reach out to your past customers via text or email; establishing this line of contact will help you encourage your happiest customers to post glowing reviews on review sites ranging from Facebook to Yelp, and may give less-satisfied clients a chance to vent to you privately, preventing them from posting their negative review in the first place.
It's hard to overstate how important reputation management is for brands in the dining and hospitality industries. In today's online ecosystem, customer reviews and ratings are more important than ever, and they are an enormous force pushing hungry diners towards your doors – or keeping them away for good.
As a result, having a better reputation online means seeing higher profits overall. In fact, one study showed that increasing your rating by just one star on a site like Yelp or Facebook correlated to a 5-9% increase in revenue. That's money in your pocket – and all it takes is good, old fashioned customer service (with a digital twist).
Make Yourself Accessible
In many ways, getting customers to find your restaurant is all about… well, helping them find your restaurant. Literally.
Studies show that having consistent, up-to-date contact and location information for your business is key to getting customers to visit. This is particularly important for restaurants and bars. Increasingly, hungry consumers are firing up their smartphones and hitting search engines or social media when looking for a bite; when they do, 85% go on to complete a purchase, and 64% do so within just one hour.
It's important that you're set up to reach this eager audience, by emphasizing accessibility and consistency on all of your social profiles. In other words, make sure that the information available for your restaurant online is accurate and easy to find.
For instance, Facebook now allows you to put up your hours, address, phone number, and even menu pages, all of which you should include on your restaurant's profile. Guests will use Facebook to find your restaurant's visual and written content, but they will also look you up for very basic reasons. Don't forget that!
The same goes for Instagram, Twitter, and other social sites. Don't neglect your bio, and ensure that your profile pictures, cover photos, and location tags are helpful and informative. Give diners what they need to find you.
One bonus tip in this regard? You can make your content on Twitter and Instagram even more relevant by effectively employing the hashtag. If you're a donut shop, say, pick out specific flavors to hashtag when you post a new pic Instagram. Searchers use these to find new restaurants and get a visual of the foods that they enjoy, so, in some ways, getting onto social feeds could prove to be even more useful for getting new customers than ranking on a search engine.
Share the Best Content
Content is the cornerstone of digital marketing, and social networks are some of the greatest publishing channels ever devised. Generate creative, compelling content for your brand, and don't hesitate to share it across social media.
There are all sorts of ways to do this! Blog posts are a reliable workhorse, as are gorgeous photos, short videos, and fun multimedia elements, like infographics or polls.
And, once again, don't forget the social aspect! Think about how you can engage with your community –and keep them coming back to your pages again and again. Have you thought about posting diners' reviews as user-generated content? Or running a fun giveaway or contest on social media?
What about offering social media-exclusive deals? When the time calls for a conversion post, you can offer discounts exclusively to your social media followers. For instance, you could choose a codeword, pick a milestone ("10,000th Taco Served"), and invite your guests in to celebrate!
Sound a Little Complicated?
Having trouble wrapping your head around this recipe for social media success? This is where Geek Chicago would like to step in! We'll work with your restaurant on designing a web-based marketing strategy that takes into account social media! Drop us line today to get the conversation started.