Top 8 Google Calendar Features for Small Business Owners
Published on December 8, 2017

Ah, scheduling. It seems simple on the surface, doesn't it? You just stick times on some kind of calendar, and go forth. From there, your schedule is sure to line up perfectly and everything is bound to work out for the best... right?
Well, maybe in our dreams.
We have probably all experienced some scheduling nightmares at some point in our working careers. In particular, small business owners often find themselves left with the burden of schedule management, and not just for themselves, but for their employees and clients as well.
Google Calendar can play a huge role in fixing those scheduling nightmares, provided you know all the neat little tricks it has to offer. The good news? It offers an abundance of sophisticated and easy-to-grasp tools, ready for you to use to your advantage right now. In fact, in the fall of 2017, Google actually updated Calendar for the first time since 2011. Though most of the updates were purely cosmetic, designed to bring Calendar more in line with the look and feel of the rest of Google's applications, the company also added even more features worth exploring. 
Ready to put this powerful tool to work in new ways? Speaking from experience, here are our top 8 favorite Google Calendar features that will simplify your life.
1. Create individual calendars for different parts of your life
If you're the kind of person who is still relying on iCal or even *gasp* a paper planner, it's time set those aside and take advantage of Google Calendar's ability to create multiple calendars (and combine them if need be).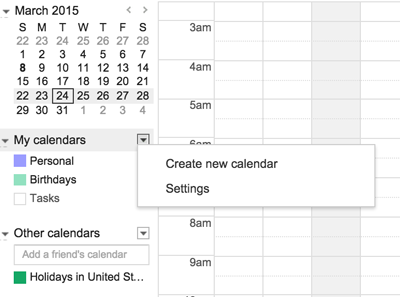 When you first start out using Google Calendar, you may not even realize this feature exists. If you look over at your left sidebar, you're given one calendar to begin with (filed under "My calendars.") This is all well and good, but when you're only working with one calendar, all of your events get treated equally, making it easier to overlook the important work tasks you have for the day, given that they're filed right alongside, say, your movie date that evening.
Counteracting this is as simple as creating a new calendar (like, a "Personal" calendar and a "Work" calendar, for starters.)
How to do it:
Click on the little arrow next to the "My calendars" category in the left sidebar
Click Create a new calendar
Select a name and your desired options
Your calendars are automatically pulled up and displayed together in your main screen, but simply clicking the little colored box next to the calendar can mute or unmute any calendar you wish, allowing you to see how your many timelines can all come together in harmony. 
2. Schedule meetings using the "Find a Time" or Suggested Times" feature
Google Calendar has a way to do some of the heavy lifting for you when it comes to scheduling a meeting with multiple people. Enter these two scheduling superstars: "Suggested Times" or "Find a Time."
How to use "Suggested Times":
Create an event in Google Calendar
Open Event Settings
Add your desired guests to the list
Click the "Suggested Times" link under the names - Here, a pop up will display some times you can meet, and you can go from there
If you have members with busy schedules, there is a good chance you'll only get early morning meeting times or late evening with this feature. Try the next strategy instead.
How to use "Find a Time":
Create an event in Google Calendar
Open Event Settings
Add your desired guests to the list 
Select the tab next to "Event details" entitled "Find a time" - here, you will see everyone's schedules side-by-side
If you see an open spot, you can claim it with the blue-dashed box and send off an invitation
Extra Credit: Have a multitude of invitees, or an overly complicated appointment calendar?  Try one of our other favorite tools, Boomerang Calendar for Google. 
3. Save attachments to your event
If you end up attending meetings that need to reference some specific documents, use Google Calendar to streamline that process. You could be all working off one Google Doc or examining the same spreadsheet. Whatever it may be, you may find it helpful to give all attendees the materials right within their event invite before the meeting even begins.
If you're not working in the updated Calendar, you'll need set this up by using a feature in Google Calendar Labs.
How to do it:
Click on the "Settings" gear (while in Google Calendar, of course)
Select "Labs"
Find the feature "Event Attachments", enable, and save
You can now use this feature directly within individual Event Settings.
As of 2017, Google Calendar also allows for rich formatting and links to relevant spreadsheets, documents and presentations to be more seamlessly added to all events, making it even easier to use Google Calendar as a task manager like Trello or Asana.
4. Email all event guests within your event
Instead of trying to craft an email to all your event guests from scratch, you can relax and let Google Calendar do the work for you!
Assuming you've added everyone to the event that needs to go, you can easily email everyone in the group directly from the event itself.
How to do it:
Select your given event
Open Event Details
Choose "Email Guests," located above the attendee list
Use the email compose box to draft and send a message
It's that easy - and, when it comes to making sure everyone is notified and on the same page, that effective. 
5. Add a meeting location
We've found this feature to come especially in handy here at Geek Chicago, as our team tends to be on the road and meeting for face-to-face chats in coffee shops more than we'd care to admit. As you know, simply saying "lets meet at the Starbucks in Lakeview" just won't cut it when it comes to deciding on a location; sometimes you need an address.
So, we use Google Calendar to help us out, and you can too! Instead of a back-and-forth exchange about our meeting place, just go ahead and put a meeting location address right within your event.
How to do it:
Create your event
Open Event Settings
Under the Event Details tab, write in an address under the "Where" category. Google Calendar will begin to look for your match by the time you get to the street name
As of 2017, Google Calendar also allows for you to automatically input and look up details about a meeting space. So, if you're picking a conference room, rather than a Starbucks, you'll be able to know where it is, what AV equipment is available, and so on. Pretty handy, right?
6. Create "appointment slots" (or office hours, meeting availability, etc.)
Find other people needing to book time with you frequently? Want to send out some availability slots without actually blocking off busy time on your calendar? Do you have limited hours
available to book meetings? Do you want to limit the times your team can book time with you? Use Google Calendar's "appointment slots" tool!
This feature essentially blocks off time slots on your calendar, and shares them with select people. People can then look through your available options, select one they like, and it's booked for them. Simple as that.
How to do it:
When creating an event, select "Appointment slots" next to "Event" at the very top of the pop-up
Use the new drop-down items to personalize your event slot(s)
For more specificity, click "Edit details" and then use the options that appear

7. Share your calendars with others
Sharing your calendar with members of your company can be an immensely useful tool when it comes time to schedule meetings, conference calls, or lunches. Do you need to let your assistant know where you'll be on a given afternoon? Do you need to make sure a highly sought-after conference room will be open? Being able to access your teammates' schedules can help ease these tensions.
How to do it:
Click on the arrow next to your desired calendar, and select "Share this Calendar"
Choose to make your calendar public (display information to anyone who wishes to look at your calendar)
Choose to show event details to everyone in your company or just free/busy information (which will display the chunks of time you have blocked off on your personal calendar, without displaying any personal details)
Choose to add someone to add someone to your calendar and choose their personal permissions below (see all details; make changes to events; make changes to events and manage sharing; hide all details)
Click save
With all of those privacy controls in place, you'll still be in total command of who has access to what information about your schedule, so you'll never need to worry about accidentally revealing an embarrassing appointment or personal event to your team. 
8. Create gentle notifications
Long-time Google Calendar users may be familiar with Google Calendar's event alert, which, for some time, completely took over your screen with a 10-minute notification (this will still happen on some smartphones). If you found this feature particularly annoying, you may find the "Gentle Notifications" option much more appealing.
Use this Google Calendar Lab feature to make your notifications a simple yet satisfying "ping" and the title page of your Google Calendar tab will flash the name of your event. (You can also enable a desktop notification, which we'd recommend.)
How to do it:
Click on the "Settings" Gear in Google Calendar
Select "Labs"
Find the "Gentle Notifications" feature, and save
Click "Enable"
Have your own Google Calendar features that you'd love to share with our team? Have any questions about digital productivity, new tech, or online marketing that you think Geek Chicago can tackle? Don't hesitate to send us an email or give us a call. We'd love to hear from you!