Here's Why Users Hate Your Website (And What You Can Do About It)
Published on July 29, 2016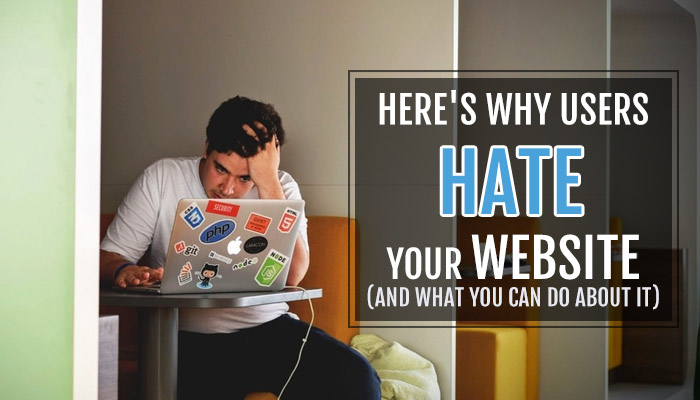 Look, it's 2016. Every brand has a website. It's not a value-adding proposition anymore, it's a requirement. 
But what many businesses and individuals don't realize is that their website is actually turning off users, well before they ever get the chance to become paying customers. The fact is, a lot of websites - especially those made with free "build-it-yourself" templates online - kind of stink, and it's costing companies precious business. 
Well, we're not going to stand for it anymore. We're here to expose the dirty little secrets of web design - and, hopefully, help make your site better along the way. Here are the reasons your website is doing more harm than good - and what you can do to turn it all around:
1.) It's Too Slow to Load
As we've written about before, 47% of consumers expect a webpage to load in two seconds or fewer, and a full 40% will abandon a website that takes more than three seconds to load, according to findings from Kissmetrics. The vastness of the internet has made users more impatient, and more likely to abandon your site for a competitor's if it takes even a few beats too long to load.
WHAT TO DO: Take a good look at whether your site is "too fat," or weighed down with unnecessary multimedia elements or "code bloat" (which will also work against your SEO goals).
2.) It's Not Mobile-Optimized
More than ever, users are finding your site on smartphones or tablets, rather than laptops or desktops. It's how they're searching, playing, getting their entertainment, and even making their purchases. If your site is slow or unresponsive on mobile, you can kiss plenty of potential customers goodbye.
WHAT TO DO: 80% of small business websites aren't optimized for mobile. Make sure yours is by implementing the five golden rules for mobile design.
3.) It Relies on Annoying Auto-play Multimedia Content
Sure, video is an effective way to communicate your brand story in an engaging way – but consider your users! Many will be getting to your content at work or on the train. Who wants to have to suddenly scramble for a volume or pause button (or, more likely, the back button)?
WHAT TO DO: Don't force your content on your users with auto-play, and if you absolutely have to use it, make sure that "mute" is the default volume setting. And, while we're at it, make sure your site doesn't rely on frequent, annoying (*shudder*) pop-up displays or ads. One or two pop-ups are fine - just don't bombard your users every few seconds. 
4.) It's Written for Robots
Content is king on the modern web – but is your content up to users' discriminating standards? Trying to cheat the system with misleading or questionable content is a heinous sin online - second only to not having content in the first place. 
WHAT TO DO: Don't let your content be emblematic of the worst the web has to offer! Don't resort to keyword stuffing; write for your audience, not above them; and make sure your headlines are emotionally appealing while still accurately reflecting the substance of your content.
5.) It's Hard to Navigate
Sure, you've gotten visitors to your landing page, but is it easy for them to find their way around your site – to your great content, for example, or through your conversion funnel and to your sales page?
WHAT TO DO: Make sure navigability is a key part of your website's redesign plan, include social share buttons for all of your content, and make sure your site's Call to Action is appealing, well-written, and easy to click.
6.) It's Too Vague About You and Your Company
Nobody feels safe entrusting their time and hard-earned money to a business they don't trust or can't quite figure out. There are any number of things you could be doing – or, more likely, omitting – that are turning away customers without you even realizing it, from having a jargon-filled "About Us" page to a "Contact" page that only includes a contact form, but not an address, phone number, or trustworthy email address.
WHAT TO DO: In addition to a page devoted to conversions – like an email address collection form or checkout page – make sure all of your contact information is easily available. Consider including testimonials on your site, or on social media, to bolster your brand's online reputation and trustworthiness.
So what's the good news? Geek is here to help with any or all of your web design or development needs. Our team has a proven track record of creating and maintaining high-quality sites for clients across a variety of industries. Have a question about your site? Looking to get started? Drop us a line today!