Here's How to Write Email Subject Lines People Will Want to Click
Published on May 4, 2016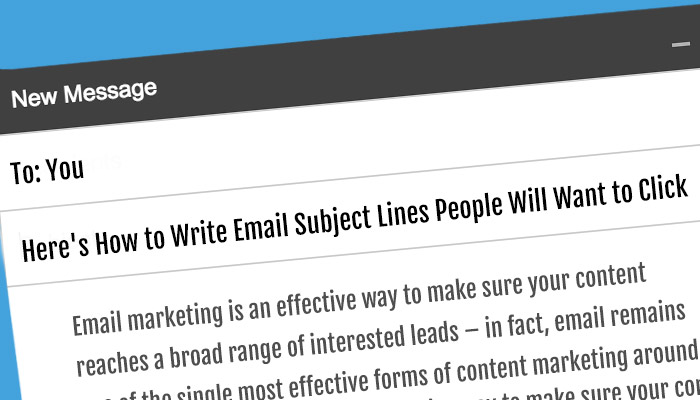 Email marketing is an effective way to make sure your content reaches a broad range of interested leads – in fact, email remains one of the single most effective forms of content marketing around.
But how can you ensure that your email marketing campaigns aren't for nothing? Is there a way to make sure your newsletter actually gets opened? That readers actually engage with your great content? That your call to action really gets an opportunity to convert?
The answer comes down to the art and science of subject lines. Like the headlines you craft for your blog content, your email subject lines have a unique chance to make a powerful first impression for your brand – and offer an incredible opportunity to turn curious recipients into dedicated customers.
Want to improve your open rates and conversions? Here are a few inside secrets on how to write email subjects that people actually click:
1.) Engage Your Audience's Emotions
While sending an email with a headline like "Office Happenings" may be all well and good for a memo to your boss, it's not going to entice curious users to engage with your content. Instead of emailing like a robot, think like an author: Be creative and try to appeal to your reader's emotions.
The same tactics that work for writing compelling, shareable blog headlines work as well for email. Think like an effective headline writer and play to your readers' emotions, specifically their sense of urgency and scarcity, or their desire for social proof.
Similarly, readers tend to engage with positive emotions at higher rates (especially on social media), so experiment with creating a sense of awe, wonder, and, most importantly, curiosity. Try phrasing your headlines as questions, or use "the five W's" (who, what, when, where, why) to entice your readers to seek out more by opening your message.
And remember, don't sacrifice clarity for cleverness. Don't misrepresent your email's subject matter, as this will just leave your user feeling duped and misled. Instead, be direct and honest in your subject line, and we promise it will pay off: In fact, according to email analytics and testing company Email on Acid, one study found that a clear subject line gets 541% more clicks than one that's overly clever.
2.) Keep it Short and Snappy
When it comes to email marketing, shorter is always sweeter. Keep your subjects concise – ideally, 50 characters or fewer. This is a particularly important rule of thumb when it comes to mobile devices – where more and more users are receiving their emails, and where subject lines tend to be cut off more frequently.
Want some help keeping it short? AABCO details a list of words that turn off your recipients and tend to get emails relegated to spam or trash folders. For best results, avoid words like "reminder," "urgent," "percent off," "collect," and "help," which all read – to consumers and to bots – like warning signs of a scam.
3.) Add A Personal Touch
Do you like it when your email has a personal touch? Some users do and some don't. Regardless, personalization and localization are trends that are both seeing a lot of popularity right now, particularly with promotional companies and political emails.
Experiment with using names in your subject lines. Most email service providers provide a relatively direct way to add customization based on your mailing list. But remember that nothing turns off a potential user faster than seeing a subject line like "Hey there, [NAME ERROR]."
If you're reticent to use your client's names, keep it simple. A basic "you" or "your" may add a directness and personal appeal that improves your open rates. You should also feel free to try out other personal flourishes – MailChimp, for instance, offers merge tags (which let your email subject line swap in and out city names based on your recipient's location) and the ability to add emoji characters to subject lines.
Ready to add email marketing to your comprehensive content marketing strategy? That's where we come in! Our experienced team is here for all of your content creation, design, mobile optimization, and A/B testing needs. Drop us a line today!